Utica's Premier Foot Specialist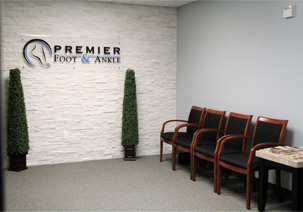 Dr. Stefano Militello is a foot specialist at Premier Foot & Ankle near Utica specializing in foot, ankle and heel pain, diabetic wound care, and foot and ankle surgery. Healthy feet are key to our overall well-being and is important to our daily lives. That's why giving them proper treatment from a caring foot doctor is essential. If you are suffering from foot or ankle pain of any kind, we encourage you to give us a call.
The initial visit routinely consists of a problem focused foot examination where we will evaluate your neurologic and vascular status as well as your foot structure, which will guide us in the proper treatment of your foot and/or ankle complaints. Routinely, x-rays are usually taken on your first visit to better help in the treatment of your foot or ankle concerns. From routine checkups to common foot injuries, the doctors at Premier Foot & Ankle are equipped to handle all of your needs.
Dr. Militello is dedicated to saving feet and improving lives.
Dr. Militello provides quality, comforting, foot care for all his patients' podiatric needs and takes great pride in treating his patients as his own family members. His comprehensive 3-year residency included intense training in Diabetic Limb Salvage and Reconstruction, Foot and Ankle Trauma, and Wound Care.
Dr. Militello is on staff at St. John Macomb-Oakland Hospital, Troy Beaumont Hospital, Macomb Wound Care, and Henry Ford Hospital.
Utica's Leading Choice for Complete Foot & Ankle Care
---
---
---
Hear directly from our satisfied patients:
"I have never seen a Doctor with such dedication and enthusiasm for their profession. Dr. Militello's diagnosis found a more severe problem that was treated and saved my life. I will be forever grateful." Jim Niedbala
---

If you are suffering from foot or ankle pain, fungus, ingrown toenails, sports injuries, or are diabetic, we encourage you to give our office a call -- we want you to love your feet as much as we do! To schedule an appointment, contact us today at (586) 948-9417.