Leading Foot and Ankle Doctor in Shelby Township MI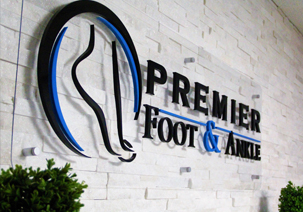 Dr. Stefano Militello, DPM is a leading foot and ankle doctor providing foot and ankle care, diabetic wound care, foot and ankle surgery and pain treatment in the Shelby Township MI area. Healthy feet are key to our overall well-being and is important to our daily lives. That's why giving them proper treatment from a caring foot doctor is essential. If you are suffering from foot or ankle pain of any kind, we encourage you to give us a call.
The initial visit routinely consists of a problem focused foot examination where we will evaluate your neurologic and vascular status as well as your foot structure, which will guide us in the proper treatment of your foot and/or ankle complaints. Routinely, x-rays are usually taken on your first visit to better help in the treatment of your foot or ankle concerns. From routine checkups to common foot injuries, the doctors at Premier Foot & Ankle are equipped to handle all of your needs.
On your initial visit to Premier Foot & Ankle, we want you to feel at home.
Immediately when you arrive, you will be welcomed to the office by our compassionate staff. We perform a thorough review of your x-rays immediately with you and then provide you with the best and most appropriate conservative treatment method for your symptoms and diagnosis. You can save yourself some time by printing and filling out our new patient forms before your visit!
Comprehensive Foot, Ankle and Heel Care in Shelby Township MI
Feet are one of the places that diabetic complications first present themselves, so if you are diabetic, you need to pay special attention to your foot health. We've been providing diabetic foot care for years. For a diabetic patient, every wound is a health concern and requires immediate attention from one of our physicians, especially since skin cuts, bruises, and bumps may often go unnoticed by a diabetic.
At Premier Foot & Ankle, limb salvage and preservation is of the utmost importance when it comes to our patients. Diabetics may be at risk for foot and leg amputation, but before we take those measures, we will do everything possible to salvage the limb and preserve its health structure.
---
Sometimes foot pain can be treated with medication, however, others may need to be treated with surgery. If you have been diagnosed with a condition that may require foot or ankle surgery, our foot surgeons are here to help. At Premier Foot & Ankle, or foot doctors frequently perform foot and ankle surgeries using local anesthesia and, in some cases, combining the anesthesia with sedation. We want to ensure that you are comfortable and pain free under our supervision.
Surgery on the ankle may be required if there has been an injury, deformity, birth defect, or diseases such as diabetes and rheumatoid arthritis, which can cause deformities or difficulty walking over time. Ankle procedures focus on the realignment of the structure either around the deformity, or after the deformity has been removed.
---
From foot and heel pain to ingrown toe nails and common foot injuries, our goal is to establish an individualized treatment plan with the highest quality of care available. We handle a wide variety of foot and ankle services, including bunions, ingrown nails, ankle sprains, corns, athletes foot, hammer toe, diabetic foot, flat feet, tendonitis, limb salvage and preservation, plantar fasciitis, arthritis and more.
Your feet play a primary role in the support and mobility of your body. Injuries to the feet or ankles can be debilitating and dramatically affect one's ability to perform simple day-to-day tasks -- but our foot doctors are here to help! If you are suffering from foot or ankle pain, fungus, ingrown toenails, or an injury of any kind, we encourage you to give our office a call -- we want you to love your feet as much as we do!
---
If you play sports for fun or are a professional athlete, the demands made on your feet and lower limbs can be tough and lead to a range of injuries, including sprained ankles, shin splints, knee pain, blisters, and more. After any sports injury, it's important to visit a podiatrist to help treat your current foot or ankle pain while also providing you with helpful tips to prevent future sports injuries.
At Premier Foot & Ankle, our foot doctors can help any athlete achieve superior performance not only by treating ankle sprains and stress fractures, but also by working with you to improve your foot, leg, and spinal alignment. Our foot doctors aim to treat sports foot and ankle injuries as quickly and efficiently as possible, helping athletes to recover and return to their usual activities quick.
See what our patients have to say:
"I have been seeing Dr. Militello for many years for treatment of some severe foot problems connected with Diabetes. He is a skillful surgeon and physician who is also very compassionate and dedicated. He has educated me while treating me. He really cares about his patients. I cannot say enough good things about Dr. Militello. He's like an 'old-fashioned' values doctor with modern, up-to-date knowledge." Debra Dombrowski
---

If you are suffering from foot or ankle pain, fungus, ingrown toenails, sports injuries, or are diabetic, we encourage you to give our office a call -- we want you to love your feet as much as we do! To schedule an appointment, contact us today at (586) 948-9417.